The Many Faces of Action Learning -- An Introduction to Innovative Approaches (in-person or virtual)
Description of the Workshop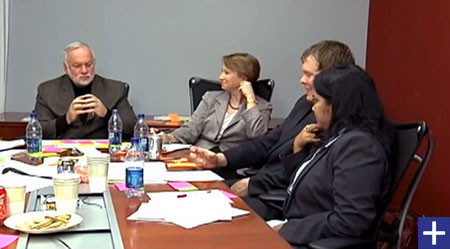 Action Learning is used around the world as an innovative, yet powerful and practical approach to address problems and opportunities for individuals, teams and organizations. The process can be customized for a wide variety of outcomes and applications.
This interactive workshop orients participants to the general Action Learning process, variations of the process, different applications and outcomes, and how each can be applied.
The workshop is very useful to learning and development professionals, including those in human resources, training and development, organization development, and leadership and management. Participants might go on to add Action Learning facilitation to their portfolio of skills, making them even more marketable to their organizations and potential clients (we can help with that training, too).
This workshop can be customized according to the nature and needs of participants, including to any pre-existing Action Learning, coaching or facilitation expertise. It also can be provided in-person or virtually.
Outcomes for Workshop Participants
Understand the general Action Learning process, including key principles, mindsets, concepts and practices
Experience the power of Action Learning for addressing problems and opportunities, and the deep learning that comes from the process
Understand the larger context within which the Action Learning process occurs, including programs, key roles and responsibilities, and criteria for success of each of these
Recognize the standard outcomes and customizable outcomes from Action Learning for individuals, teams and organizations
Understand how organizations and members best select what to address with Action Learning
Enhance basic skills in asking powerful questions to identify relevant, realistic and challenging actions to address priorities -- and generate deep learning at the same time
Develop foundational skills to serve as a useful member of an Action Learning group (the skills needed in a particular program depend on the purpose of that program and its design)
Recognize and experience several different variations of Action Learning, including which of those might be most useful for participants, based on their nature and needs
Generate a list of potential applications for Action Learning for your organization or practice
Typical Topics in the Workshop
Topics can be customized as needed for participants.
Action Learning Process

Why Action Learning? What is it so popular?
Principles, practices and concepts of Action Learning
Variations on Action Learning
What Action Learning is not
Action Learning compared to traditional training and development

How Action Learning and Coaching Work

Typical phases of a coaching session
How Action Learning addresses problems and opportunities
How Action Learning generates deep learning
Standard and customizable outcomes from Action Learning
Examples of what individuals and organizations address in Action Learning

Action Learning Meetings

Selecting the most useful priorities to address (problems or opportunities)
Framing problems and opportunities for useful actions and learning
Selecting relevant, realistic and challenging actions to address priorities
Capturing and dispersing learning
Evaluating process, meetings and results

Context of Action Learning Meetings -- Action Learning Programs

Life of a typical Action Learning program
Roles of facilitator, members and presenter
Membership of a group
Variety of Action Learning formats
Diverse Methods of Development in the Workshop
The workshop includes five to six participants in one cohort group to allow time for individual attention, practice and feedback in the workshop. Methods include:
An approximate one to two hours of self-paced pre-reading and /or videos to gain highly practical guidelines, templates and tools before the workshop.
Focused and practical presentations by faculty, with plenty of time for Q&A.
Extensive practice sessions, with plenty of time for Q&A and feedback from faculty and fellow learners.
Participants complete a Learning Journal with reflections, learning and possible applications for Action Learning.
Workshop is facilitated by instructor(s) with extensive experience in in-person and virtual training of Action Learning to a diverse set of learners.
Each learner gets access to practical tools as they need them from our extensive list of tools.
Workshop Formats: In-Person or Virtual
In-person: Two full days from 8:30 a.m. to 4:30 p.m., with lunch and breaks
Virtual: Five three-hour modules, each three hours long with a break
Certificate and CEUs
Each participant receives a "Certificate in Action Learning" from Action Learning Source, upon completing the workshop, assuming he or she fully attended and actively participated in the workshop.
CEUs are provided from George Mason University.

NOTE: There is no independent "certification" organization in the field of Action Learning, for example, like the independent International Coach Federation is for the profession of personal and professional coaching. "Independent" means that the certification organization does not concurrently promote and provide certification on its own particular model of Action Learning, while suggesting that it concurrently is the certification organization of other and different models.
Workshop Instructors
Chuck Appleby, PhD, of Appleby & Associates, is a master Action Learning coach and facilitator with extensive experience in Action Learning planning, development and instruction.
Carter McNamara, MBA, PhD, of Authenticity Consulting, LLC, is also a master Action Learning coach and facilitator, and is an internationally known thought leader in customizing Action Learning programs and processes.
Chuck and Carter are organizational and leadership development consultants with over 30 years of management, consulting and coaching experience in government, industry and non-profits.
Fees
Virtual: $950 (virtual workshop includes no travel expenses for students)
Scheduling and Registration
Workshops are scheduled when there are at least five participants for a workshop. Scheduling is per the participants' and faculty member's schedules.
Contact Action Learning Source at info@ActionLearningSource.com
(The phrase "The Many Faces of Action Learning" was previously used as the title of an article by Victoria J. Marsick and Judy O'Neil, in "Management Learning", 1999 30:159.)
" Chuck [of Appleby & Associates], I wanted to tell you how much I appreciated the way you facilitated. You were enthusiastic, interesting, respectful, present, flexible, open and eminently practical. I am a professional facilitator too, and I think I recognize an excellent job when I see one. Well done! And I can see it all comes from the person that you are. Thank you for an engaging and energizing experience."
— Participant in ASTD Action Learning Course