Advanced Action Learning Facilitation (in-person or virtual)
Description of the Workshop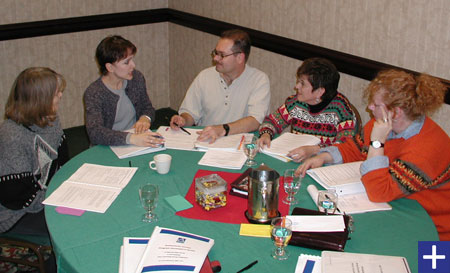 This intensive hands-on workshop is useful for those wanting to expand, deepen and enrich their knowledge and expertise in facilitating Action Learning.
Participants from other schools of Action Learning are welcome to apply to participate in this workshop.
This workshop can be customized according to the nature and needs of participants, including to any pre-existing Action Learning, coaching or facilitation expertise. It also can be provided in-person or virtually.
Outcomes for Workshop Participants
Expanded, deepened and enriched understanding of various approaches to Action Learning
Increased facilitation skills, especially with more state-of-the-art styles, methods and tools
Renewed and refreshed energy and perspectives for Action Learning facilitation
Sharpened and polished facilitation skills, and expanded confidence in facilitating
Dealing with complex and significant challenges
Validating the programmatic conditions for success are present to ensure facilitator success
Integrating leading-edge coaching and OD techniques.
Increased marketability of Action Learning facilitation skills
Trusted peer network
Completing a professional development plan
Book Field Guide to Consulting and Organizational Development with many tools for facilitation and successfully guiding change
Range of highly practical advanced facilitation tools
Possible Topics in the Workshop
Topics will be customized to the needs and interests of participants, and could include:
Advanced methods for facilitators to support coaching among group members

Select the most appropriate priorities to work on
Frame and clarify those priorities
Strategize to address the priorities
Select the most relevant, realistic and challenging actions to address priorities
Reflect on the group coaching and on results of action

Strategies to address sudden external challenges to success of facilitation, for example:

Action Learning project is changed by client, e.g., replaced, or changed in focus or scope
Client changes design of program, e.g., resources for program or role of sponsor
Changes in the Action Learning group, e.g., changing membership and roles

State-of-the-art approaches in coaching, group process and change management

Learn various state-of-the-art approaches for use in Action Learning, e.g., Appreciative Inquiry, design thinking, mindsets and coaching models
Integrate a new approach into the Action Learning process
Maintain proper balance of coaching and training for the chosen model of Action Learning

Strategies to address challenges that can occur within the group and facilitation role

Respond to challenges in Action Learning process, e.g., recurring conflicts or resistance to coaching
Manage recurring anxieties about the dilemmas inherent in facilitating Action Learning
Learn to recognize "coaching fatigue" and how to recover from it

Marketing Action Learning programs and facilitation to stakeholders

Marketing the Action Learning process internally to management, clients and sponsors
Marketing the Action Learning process to participants in the process
Marketing yourself as a highly qualified Action Learning facilitator
Diverse Methods of Development in the Workshop
The workshop includes five to six participants in one cohort group to allow time for individual attention, practice and feedback in the workshop. Methods include:
An approximate one to two hours of self-paced pre-reading and /or videos to gain highly practical guidelines, templates and tools before the workshop.
Focused and practical presentations by faculty, with plenty of time for Q&A.
Extensive facilitation practice sessions, with plenty of time for Q&A and feedback from faculty and fellow learners.
Participants complete a Learning Journal with reflections, learning and possible applications for Action Learning.
Workshop is facilitated by instructor(s) with extensive experience in in-person and virtual training of Action Learning facilitation to a diverse set of learners.
Each learner gets access to practical tools as they need them from our vast toolbox of tools.
Workshop Formats: In-Person or Virtual
In-person: Two full days from 8:30 a.m. to 4:30 p.m., with lunch and breaks
Virtual: Five three-hour modules, each three hours long with a break
CEUs and Certificate
Learners who successfully completed the prerequisite workshops (below) and this workshop will receive "Certificate in Advanced Action Learning Facilitation" from Action Learning Source.
CEUs are provided from George Mason University.

NOTE: There is no independent "certification" organization in the field of Action Learning, for example, like the independent International Coach Federation is for the profession of personal and professional coaching. "Independent" means that the certification organization does not concurrently promote and provide certification on its own particular model of Action Learning, while suggesting that it concurrently is the certification organization of other and different models.
Prerequisites
Before attending this workshop, participants should have facilitated at least six Action Learning meetings that the participant arranged outside of the workshops. Prerequisites could be negotiated, based on the current capabilities of the learner.
Workshop Instructors
Chuck Appleby, PhD, of Appleby & Associates, is a master Action Learning coach and facilitator with extensive experience in Action Learning planning, development and instruction.
Carter McNamara, MBA, PhD, of Authenticity Consulting, LLC, is also a master Action Learning coach and facilitator, and is an internationally known thought leader in customizing Action Learning programs and processes.
Chuck and Carter are organizational and leadership development consultants with over 30 years of management, consulting and coaching experience in government, industry and non-profits.
Fees
Virtual: $950 (virtual workshop includes no travel expenses for students)
Scheduling and Registration
Workshops are scheduled when there are at least five participants for a workshop. Scheduling is per the participants' and faculty member's schedules.
Contact Action Learning Source at info@ActionLearningSource.com
"Carter [of Authenticity Consulting] has an uncanny ability to cut to the core of what is helpful to make Action Learning effective, and to help individuals eliminate whatever barriers they encounter in managing and facilitating a program."
— Julia Fabris McBride, ICF Coach Certified, Director of Faculty and Coach Development,
Kansas Leadership Center